Best Gloves for Pruning Roses
21 April 2021 | Admin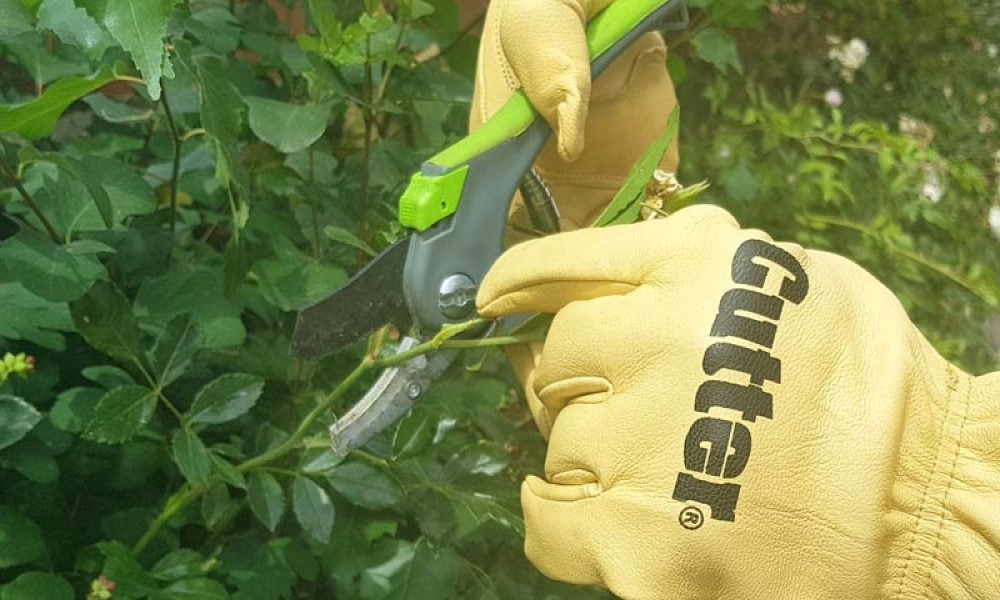 The thorns, spines, and prickles serve the same function: physically deterring animals from eating the plant material, that's why they can be extremely sharp and pierce through your skin.
The skin on your hands and forearms is delicate and easily torn. The thorns will keep digging into your skin which not only hurts but also can become infected.
How to choose the right gloves for rose pruning?
A lightweight material (eg. cotton gloves) may be cool and comfortable, a thinner exterior may allow those rose thorns to rip straight through the glove and to your skin.
Some gloves are made from a combination of Latex and other materials (eg.Bamboo Gardening Gloves). While the Latex, usually found on the palms and fingers, can be thick enough to protect you against roses thorns, the back of the glove is not offering any protection against sharp objects.
What material offer total protection against thorns, spines, and prickles ?
Natural Leather Gloves is an obvious choice for rose gardening gloves.
Pros:
The more you wear your leather gloves, the softer they'll become

The less stiff they become, the easier they'll be able to work with

Long lasting - it will take time to break in the gloves

Natural leather is great for wicking away moisture from perspiration

Over time, your gloves will become custom to the wearer, they will fit perfect
Cons:
They may cost more than a regular pair of gloves
Cutter CW300 Original Work Gloves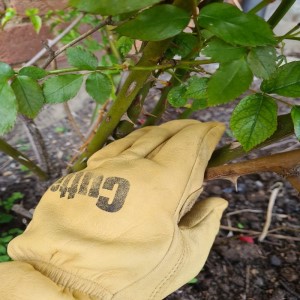 You can use this gloves for everything that your garden may throw at you. The roses thorns are powerless against Cutter CW300 gloves.
This glove is constructed from quality goatskin leather. Thorns won't be able to penetrate the leather.
You don't need to change the gloves when weeding, planting pots, rose pruning, brambling, moving logs, digging or doing all other gardening activities. They will do the job.
Key Features:
Hydrophobic water repellent coating to keep hands dry

Reinforced palm area for extra protection

Made from 100% Goatskin Leather
If you've spent time with overgrown rose bushes, you know how valuable thick gloves can be. The top quality goatskin leather can't be beaten when it comes to protecting delicate skin.
Cons
Not fully water resistant

Not the best for Extremely sharp thorns

Quality comes with a price .They are not very cheap
A cheaper version of this gloves are: Cutter CW100 Goatskin Leather Men's Original Work Gloves
Watch a short video about this gloves and how they perform against rose thorns.
Second in our list:
Briers Sicilian Lemon Thorn-Proof Gardening Gloves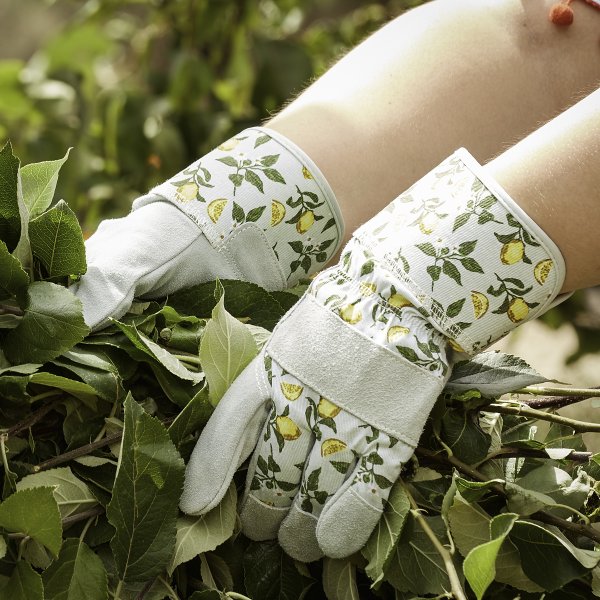 Briers Sicilian Lemon Gardening Gloves offers you the thorn protection that is needed while gardening.
A nice Summery Sicilian lemon pattern will put you in the mood to go outside and start gardening with style.
Key Features:
Made from leather with a

breathable material on the back of the glove for maximum comfort

Thorn Resistant

Palm protection

Reinforced suede protects your hands from thorns and brambles

Hand washable

Price very reasonable
The Briers Sicilian Lemon Thorn-Proof Gloves are designed to fit comfortably and help you tend your garden without injury from sharp objects.
Cons:
Low water resistance

Briers Sicilian Lemon

Gardening Gloves are supplied in a single size (8 Medium)
Similar products:
In third place:
Briers Sicilian Lemon Garden Gauntlets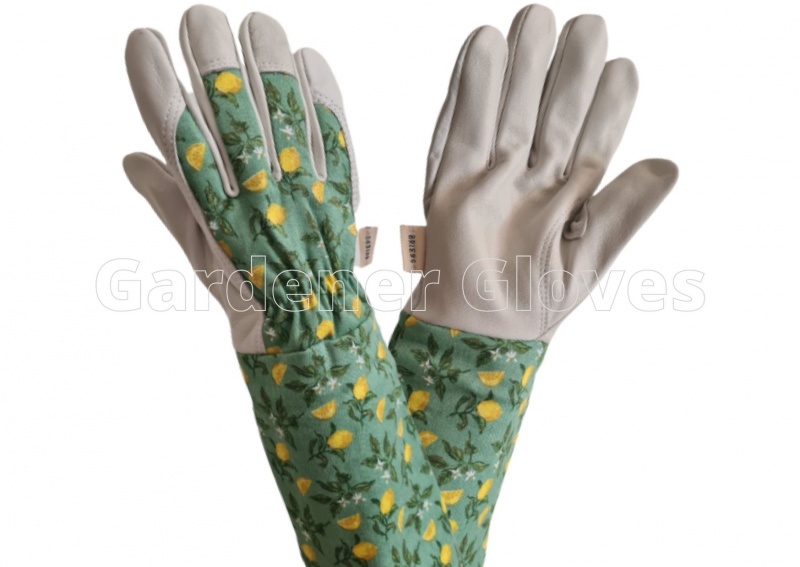 When it's time for seasonal pruning, you won't need to worry about the thorns if you buy Briers Sicilian Lemon Gauntlets.
To keep you safe from roses thorns the gauntlet style gloves is a must. The extended forearm helps keep not only your hands and wrists safe from thorny encounters, but also a large portion of your arm, protecting your clothing.
Key Features:
Made from soft real Leather allows you a better grip on small objects.

Safety cuff that provide additional protection for the wrists

Thorn Resistant -

protect the hand from stinging plants, thorns and brambles

Forearm Protection- helps keep your wrists and a large portion of your arm safe from thorny encounters

Sicilian lemon pattern to add a little bit of style while gardening
Cons:
What you gain in dexterity you lose on protection - Soft leather on the palm and fingers is Not the best for Extremely sharp thorns.

Briers Sicilian Lemon Garden Gauntlets

are supplied in a single size (8 Medium)
Similar products:
Conclusion:
The best gardening gloves for rose pruning are made from leather, offering you not only protection, comfort and a better dexterity but you won't need to keep replace them.
Buy the right gloves from GardenerGloves.co.uk and go outside, enjoy gardening without fear of scratches and stings.